Save the date!
See you on June 14th.
Tasting
The tasting of our range of wine is offered, and is available without reservation. Seated at one of our tasting tables, we will walk you through the different shades and ranges of our wine, according to their blends, soils and maturation. We will then introduce you to our three olive oils, each of which has a unique individuality.
We also offer you the possibility to discover our cellar for wine making and ageing. During this guided tour, you will be immersed in the work of our cellar master. The whole process will be explained to you, from the reception of the grapes in the receive container designed by Jean-Michel Wilmotte to the maturation of our reds in our Austrian oak barrels from Stockinger. From the vat room to the barrel cellar, this initiatory journey ends with the tasting of our complete range of wines. Finally, we invite you to stroll through our store to discover the local producers, our selection of wines and spirits from around the world or simply to enjoy a drink on the terrace.
Visit of the cellars followed by a tasting: 12 € per person
10 € per person from 10 people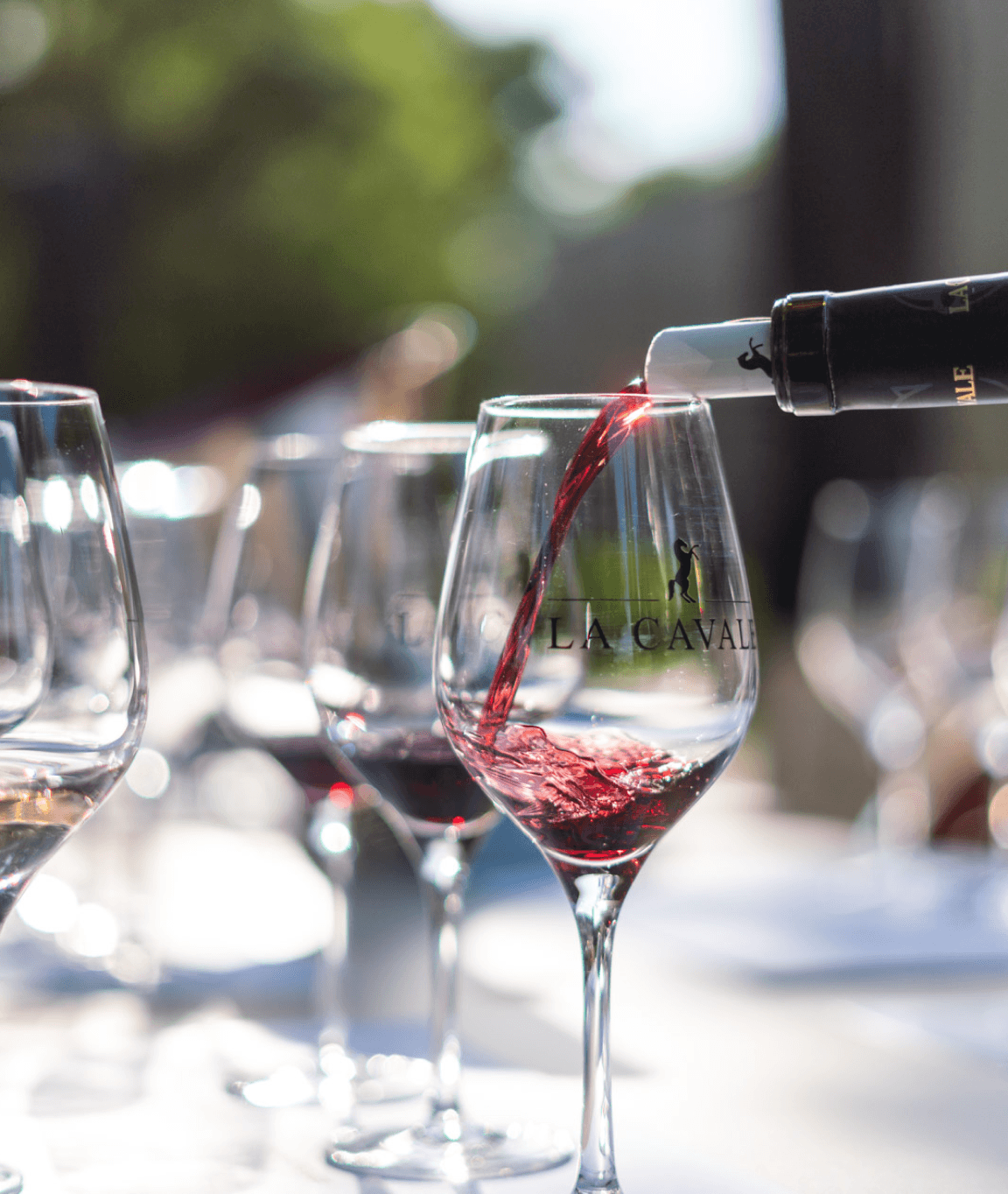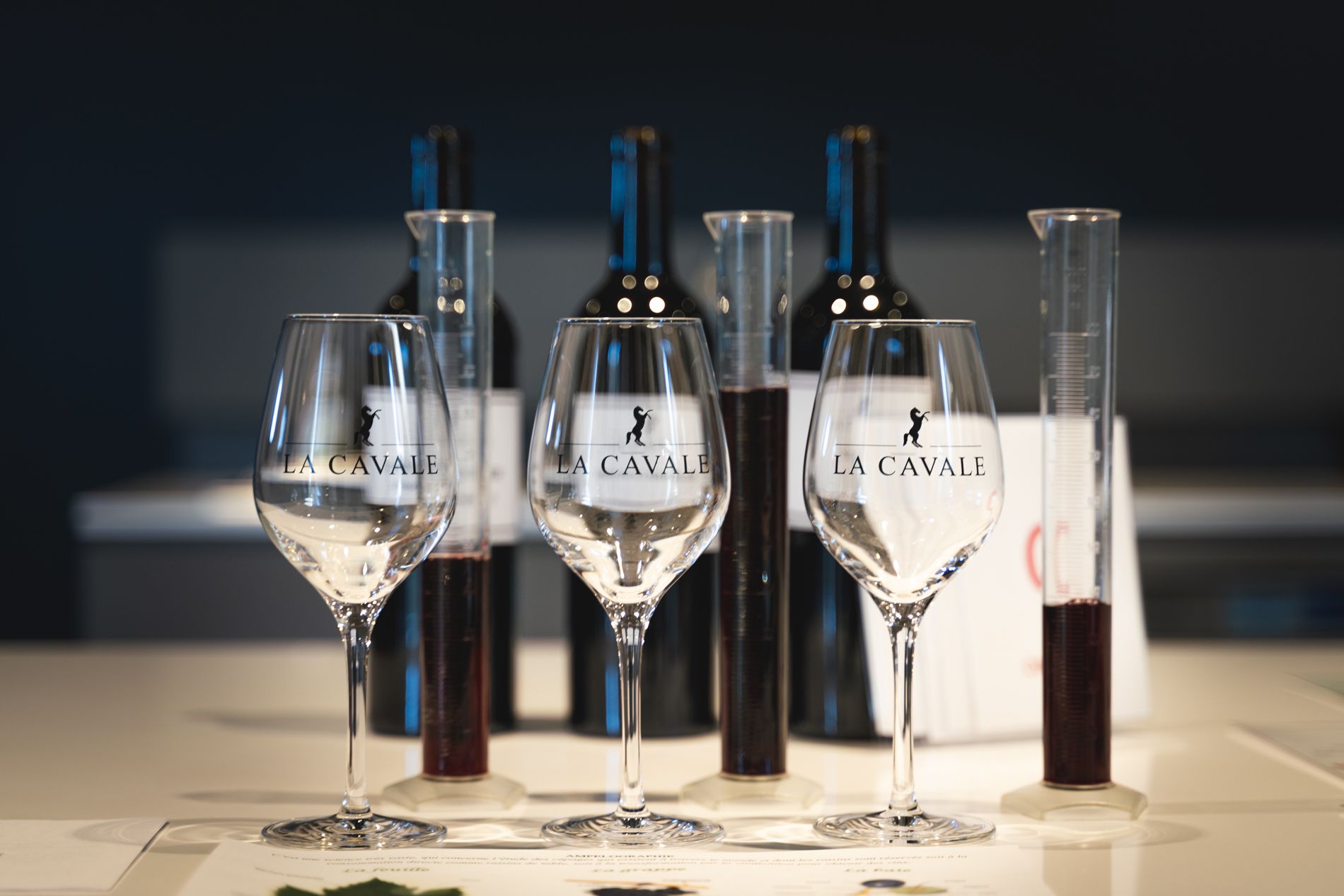 Wine tourism workshops
Armed with his research on wine tourism, Paul Dubrule is considered the pioneer of wine tourism in France.
His estate is a reflection of this with its exceptional winery and workshops that are fun, instructive and whose common thread is a passion for wine.
Come and take part in our Introduction to Wine tasting workshop and discover what is hidden behind the disk, the tears or the caudalies, so that wine tasting no longer holds any secrets for you. For the curious ones, we suggest a workshop on the science of vine and wine, Ampelography. After having understood the difference between the different grape varieties and the importance of soils, you will be given the opportunity to create your own blend. For the gourmets, we have two workshops combining food and wine: Wine and Cheese as well as Wine and Chocolate, during which we will reveal to you the tips and tricks to sublimate both of them when they are associated with the wines that correspond to them.
Due to the sanitary restrictions, only the Initiation to wine tasting workshop and Ampélographie are maintained at this time.
Reservations required, 24 hours in advance.
25 € per person, workshops of about 1 hour
Terrace
As an extension of the store in the heart of the Luberon vineyard, La Cavale has a terrace open on a green bower. It is your ideal summer stopover!
After visiting our cellars, participating in a wine-tourism workshop or simply in order to enjoy the sweet sound of cicadas, take time to recharge your batteries. This breathtaking landscape, its changing colours is reason enough to stop and enjoy a glass of wine and why not add some local delicatessen or savory specialties.
On Thursday evenings, musicians take over the terrace, we guarantee a festive atmosphere! With various styles, you will find what you are looking for in our selection. Sit back, relax and let the charm of our foodtrucks work. A home-made cuisine with quality products for the greatest happiness of your taste buds. It's also the perfect time to enjoy the sunset that fades peacefully behind the horizon.
From 6:30 pm to 10 pm by reservations only
3017 Route de Lourmarin. 84160 Cucuron +33(0)4 90 08 31 92 www.domaine-lacavale.com
boutique@domaine-lacavale.com
June 24th: To launch the summer season, DJ Charly is back at La Cavale for a lounge mix evening.
July 1st: Sonika, both singer and pianist, who opened for the group Tryo and was a singer for André Manoukian. He has a repertoire of soul, jazz, pop and French songs and above all, an incredible voice.
July 8th: The Duo GM, the mythical duo of La Cavale's summer evenings! Ines and Ange are back and revisit with their style the classics of flamenco and latin music while bringing more current notes.
July 15th: The Duo MOB, composed of two young artists, one on the guitar and the other on the double bass, who will transport us for an evening of festive and well-known tunes.
July 22nd: Julien Pierson, pop/folk singer with a rich and deep voice, accompanied by Cyril Peron on guitar and bass. This duo covers the greatest rock, pop and folk songs from the 70's up to today.
July 29th: Sonika, the singer with a soul, jazz and French songs repertoire will be back for a new evening at La Cavale.
August 5th: The Duo MOB returns with guitar and double bass to transport you the time of an evening on the tunes of variety. Hugo Randazzo, the creator of Rhums du Sud, will be there for a tasting.
August 12th: Gypsy jazz and music by the Basilic Swing quartet.
August 19th: The Duo GM, Ines and Ange are back and revisit with their style the classics of flamenco and latin music while bringing more current notes.
August 26th: To close the season, DJ Charly is back at La Cavale for an evening of lounge mix.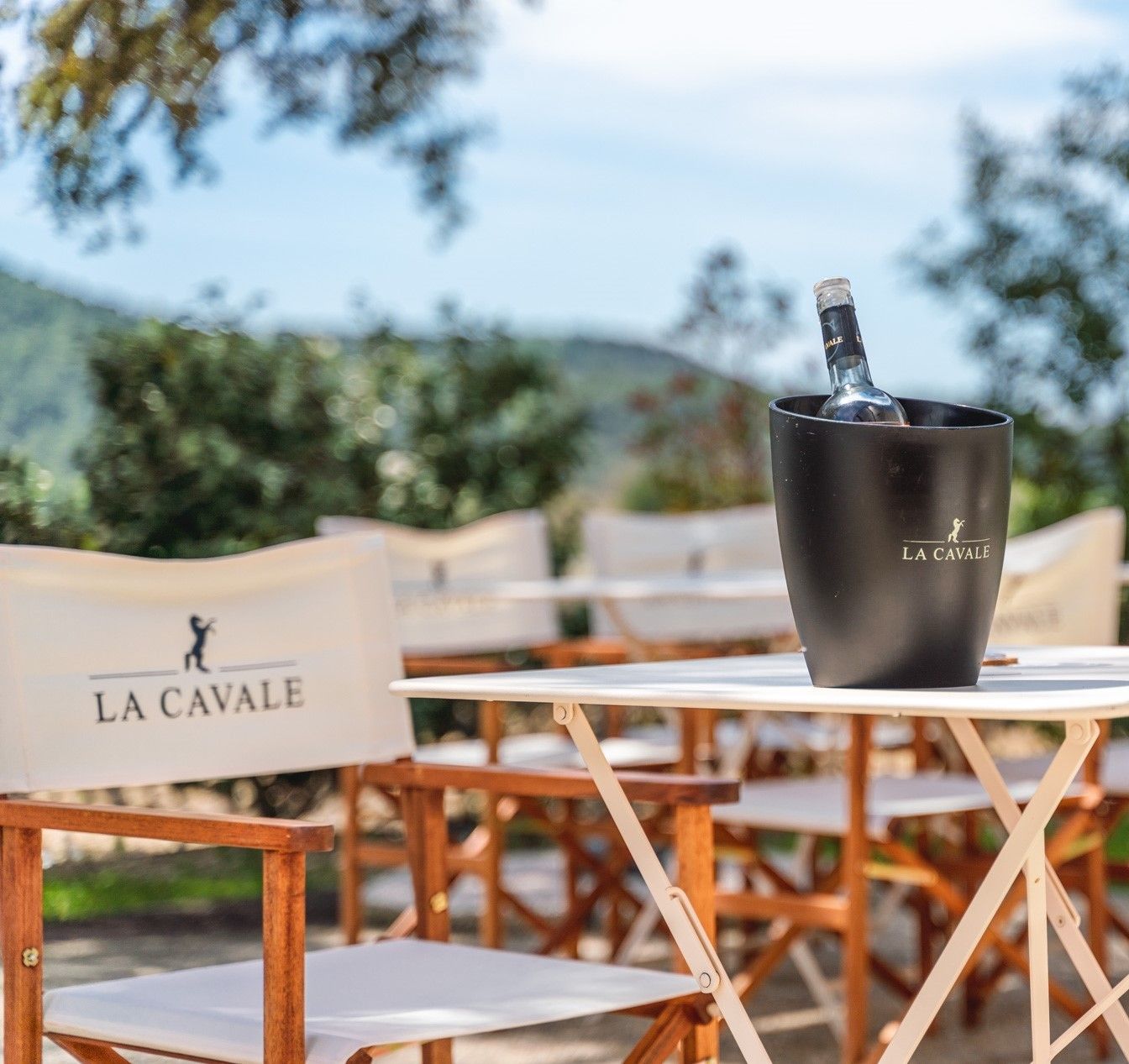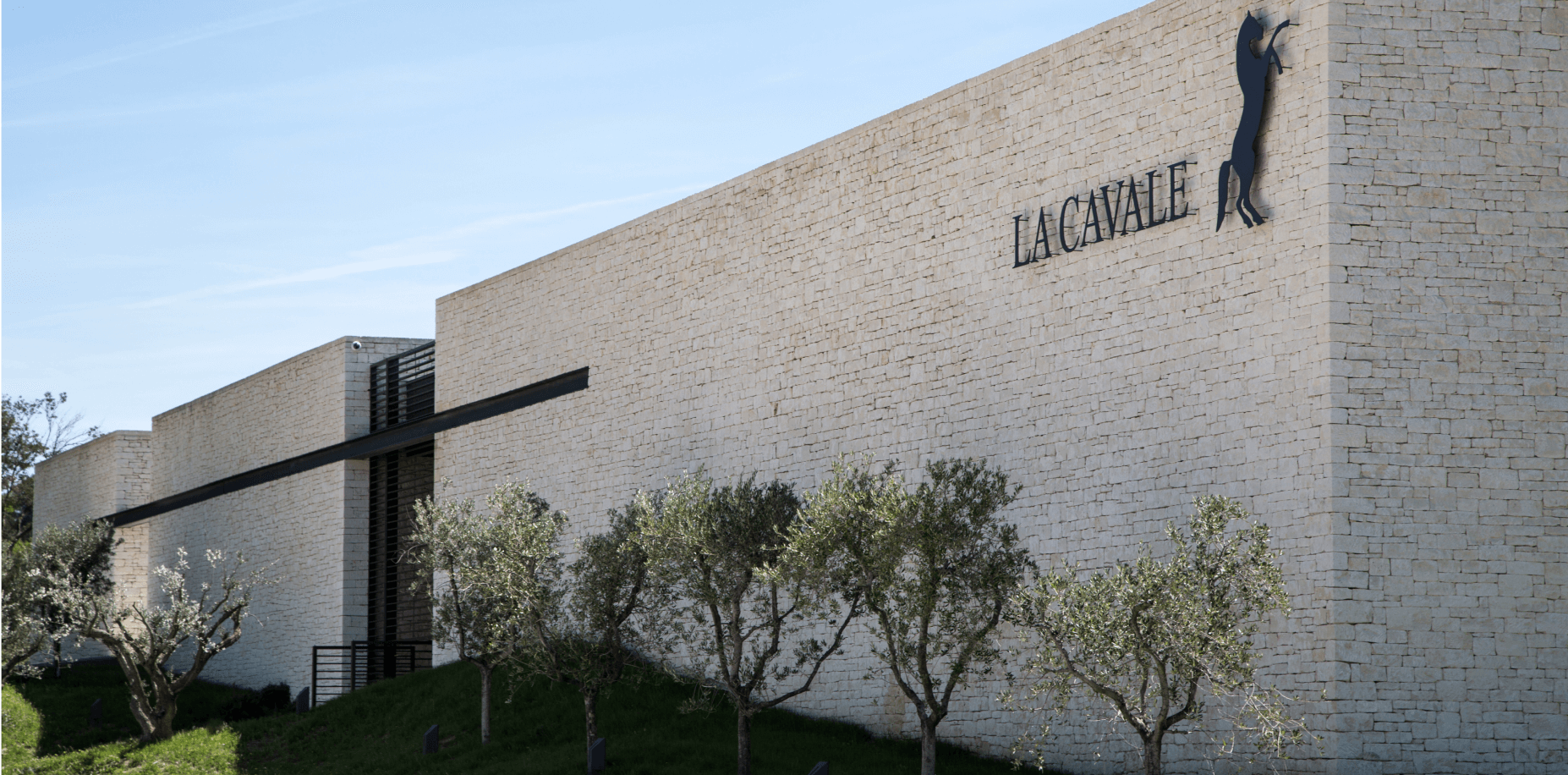 It all began in 1973 when Paul Dubrule, an experienced entrepreneur and co-founder of the Accor group, fell under the spell of a Provencal bastide, La Cavale, and the beauty of the Luberon.
From a plot of vines to a few hectares, the adventure accelerated. In 1986, he embarked on a wine-growing adventure with the creation of his estate in Cucuron, which he naturally called La Cavale.
Between 2005 and 2009, as part of his mandate as a senator, Paul Dubrule was entrusted with the mission of defining a policy aimed to boost both tourism and the wine industry. This was to be the birth of wine tourism. He also applied his own recommendations and decided to make La Cavale the unmissable place of wine and life of the Luberon.
The transformation is grandiose, with the contribution of the renowned architect, Jean-Michel Wilmotte.
He designed a building both modern and contemporary, fitting brilliantly into the Regional Natural Park of Luberon. Other experts take part in the adventure as well. Since 2010 Alain Graillot has contributed his experience as a wine grower and his advice. He was notably invested in a profound restructuring of the domain, by conducting an audit of the soils, uprooting and planting with the aim of obtaining "organic agriculture" certification. Lydia and Claude Bourguignon contribute to this evolution through thorough study and analysis of the soils in order to reveal their nature and their intrinsic life in the service of the plant.
This concern for the land and its transmission to future generations is now a family ambition. In 2018, Thierry Mueth, Paul Dubrule's son-in-law, took over the management of La Cavale with the responsibility of enriching this vision.